News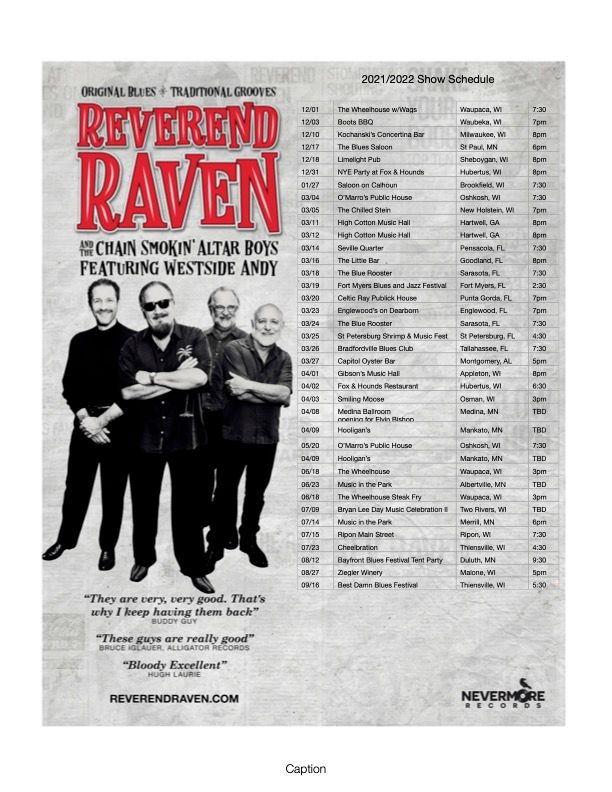 Ahoy shipmates,  
Here are some of the shows we have coming up in the next few weeks 
Friday - 12/10 - Kochanski's, Milwaukee, WI @ 7PM
FRIDAY - 12/17 - Wilebski's Blues Saloon, St Paul, MN @ 6pm
Friday - 12/31 - The Fox & Hounds NYE Party, Hubertus, WI @ 8PM  
Merchandise  
CDs, t-shirts, hats and posters are available at Reverendraven.com/merchandise.  
CDs are also available at Amazon.com and The Exclusive Company in Greenfield, WI  
CDbaby.com no longer sells merchandise.  We'll change the links on the webpages soon.  
Street Team Volunteers Needed  
We're looking for volunteers to help roadie equipment at the beginning and end of our shows  
We will reimburse your cover charge and put and extra $40 in your pocket to boot....if interested please contact me at rraven01@gmail.com  
Thanks  
Rev  
To download the track "Jiggle My Junk" for free, go to https://reverendraven.com/dl and enter the code abcd-1234