News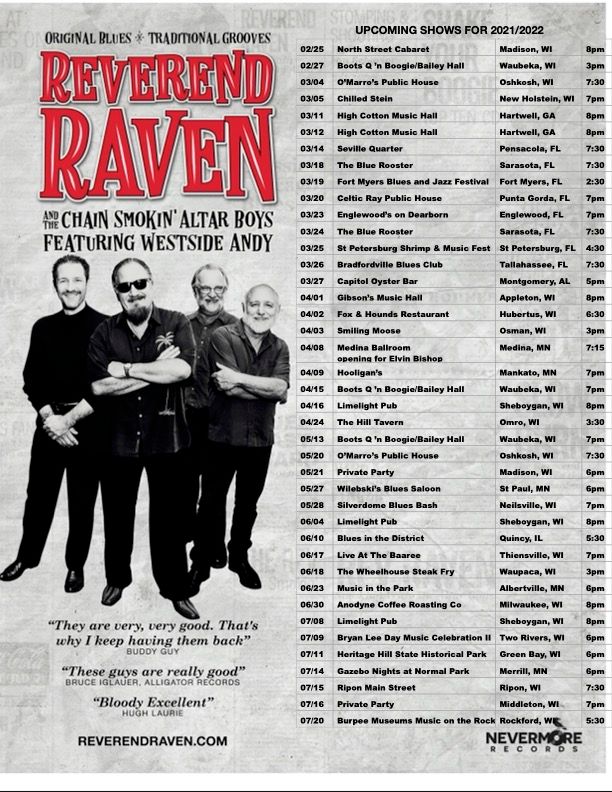 Ahoy shipmates,  
The USS Nevermore TK1 is sailing down to Florida for three weeks next month.  Before we leave we have to get back into playing shape after our winter break.  
Friday - 2/25 - North Street Cabaret, Madison, WI @ 8pm
Sunday - 2/27 - Boot's Q'n Boogie Barbecue, Bailey's Hall, Waubeka, WI @ 3pm 
Friday - 03/04 - O'Marro's, Oshkosh, WI @ 7:30PM  
Saturday - 03/05 - Chilled Stein, New Holstein, WI 7pm
Merchandise  
CDs, t-shirts, hats and posters are available at Reverendraven.com/merchandise.  
CDs are also available at Amazon.com and The Exclusive Company in Greenfield, WI  
CDbaby.com no longer sells merchandise.  We'll change the links on the webpages soon.  
Street Team Volunteers Needed  
We're looking for volunteers to help roadie equipment at the beginning and end of our shows  
We will reimburse your cover charge and put and extra $40 in your pocket to boot....if interested please contact me at rraven01@gmail.com  
Thanks  
Rev  
To download the track "Jiggle My Junk" for free, go to https://reverendraven.com/dl and enter the code abcd-1234