"

These guys are really good "
— BRUCE IGLAUER
"

They are very, very good. That's why I keep having them back. "
— BUDDY GUY
"

Bloody Excellent "
— HUGH LAURIE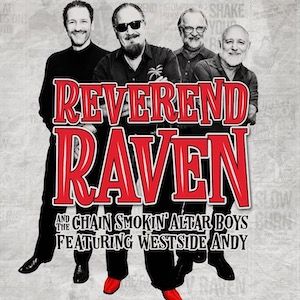 Donations, Gratuities, Alms and Tips
Knock a few years off of your purgatory sentence and donate. All donations go towards, rent, mortgage, utilities for the four of us.
Enter the amount you wish to donate
Bringing crowds to their feet at the hardest to please and sophisticated night clubs in the Midwest, Reverend Raven and the Chain Smoking Altar Boys play traditional blues, straight up with a big dose of passion. With smoking grooves, served up with hot harmonica and smooth stinging guitar they play original songs peppered with nods to Slim Harpo, Little Walter, Jimmy Rogers, Billy Boy Arnold, Junior Wells and the three Kings. 
Born and raised on south side of Chicago, the Rev  has been playing the blues since 1971 when he first saw Freddy King play at the Kinetic Theatre in Chicago. After 15 year hitch in the Navy, Chief Raven moved to Milwaukee where he began a long friendship and collaboration with Madison Slim, long time harmonica player for Jimmy Rogers.  
Upcoming Shows
Reverend Raven @ Wisconsin State Fair Park